Small actions are the difference between surviving and thriving
Making small, albeit meaningful, actions can have an impact. Whether it's removing plastic bags from the beach or investing in markets, our actions can be the difference between surviving and thriving, even in a world of flux.
With the turmoil and uncertainty of Covid-19 swirling around us, the Imak team recently took a breather in East Auckland. We set out to do something small to make a difference – picking up litter at the nearby Taurarua Judges Bay. It reaffirmed our approach to what we're all facing right now.
Our community work had been planned weeks before the scare of 'pandemic panic'. Thoughts raced through our minds: should we put it all on hold, hunker down and think only of survival? The consensus was a resounding 'no'. It's consistent with our philosophy of looking at the big picture.
Questions and advice for the times
We're committed to giving sound insurance and investment advice, and we've been pleased to help with your concerns and queries over the last few weeks. We're being asked if risk policies are holding up to the spread of Covid-19 – here and overseas. Other common questions are about recent falls on markets. Will companies we recognise locally (F&P Healthcare, A2 Milk) and internationally (Microsoft, Netflix) be resilient in the face of disrupted supply chains and sharp drops in demand?
Here's what we can tell you
The NZX experienced a bounce last week, although it has fallen more than 20% from its peak in February.
You can mitigate concentration risk by having a spread of assets across all main markets, although we recognise it still feels unsettling.
China is now reporting no new Covid-19 cases, and its workforce is coming back online, which is reassuring.
There's a race to deliver a vaccination solution to the world and Governments are putting trillions behind the effort.
Australian scientists are hopeful of research into drugs used for HIV or malaria, and American researchers are working hard too.
The prudent advice is for investors is to maintain your long-term strategy – once you've ensured you've covered your basic short-term needs, of course. As Shelby David, frugal value investor and peer of Warren Buffet once said,
"You make most of your money in a bear market; you just don't realise it at the time".
This is sensible advice for your longterm nest-egg.
JP Morgan's depiction of the U.S.'s S&P 500 of the impact of being out of the market is useful (see below).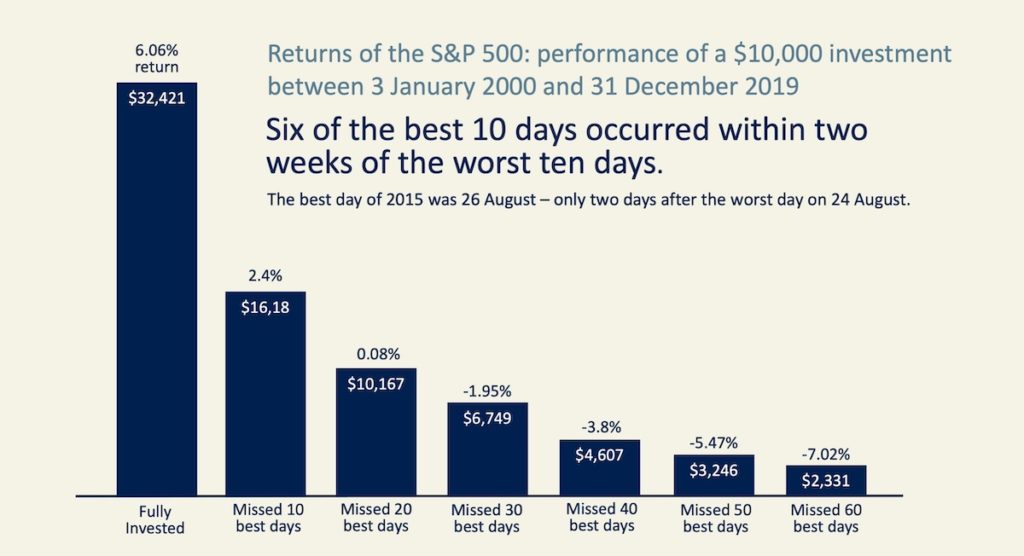 The Reserve Bank has made an unprecedented move to cut the Official Cash Rate to a record low 0.25% for 12 months, and it's signalled it won't hesitate to use other tools too. Adrian Orr said on a recent morning talk radio programme that unlike the Global Financial Crisis, 'he can see the end of this…" which is reassuring.
So, the challenge is to remember one's objective of investing and use a prudent, risk-adjusted, diversified approach to growing capital. And, as the world faces challenges ahead, and finds solutions, small actions can be significant – whether that's picking up rubbish in a local park or remembering why you invest in the first place.